Our finances
At Book Aid International all the income we receive is from voluntary donations – we receive no government grants.
We are supported by thousands of individuals, companies and trusts, which donate the funds that we need to reach readers around the world.
Below is a summary of our 2022 income and expenditure. You can view our full audited 2022 accounts here.
Total income
In 2022 our total income was £17,700,588, of which £2,265,915 was cash (a decrease of £288,708 on 2021's cash income of £2,554,623) and £15,434,673 was the value of books donated to us by publishers.
Of this 2022 cash income, £1,374,336 was unrestricted income (£1,489,090 in 2021) which funded our work providing books around the world. This decrease in unrestricted income was primarily a result of the economic climate impacting on our individual giving programme. However, performance across the year remained strong. We anticipate the programme recovering once the economic climate improves.
We received restricted income of £891,579 in 2022 (£1,065,533 in 2021). This income was used to support project activity working with our partners around the world to train teachers and librarians and establish reading spaces. This decrease is because of 2021's unusually high trust funding, some of which was not expected to be repeated in 2022.
Restricted income from major donors and corporate supporters remained relatively steady in 2022.
Total expenditure
In 2022 our total expenditure was £17,420,968, of which £2,629,726 was cash expenditure and £14,791,242 was the value of the books we provided around the world.
2022's cash expenditure of £2,629,726 was substantially higher than the 2021 figure of £2,308,575.
Much of this additional expenditure was the result of the inflationary pressure of higher fuel prices throughout 2022, which substantially increased the cost of shipping books around the world, as well as impacting the cost of running our Camberwell offices and warehouse.
2022's increased expenditure also reflects our work in 2022 to fulfil our strategic commitment to invest in the sustainability of the organisation. We upgraded our IT systems to support our finance and fundraising functions, built a new website to strengthen and support donor engagement and invested in our building and facilities to improve their environmental efficiency.
We also made a significant investment in our fundraising, with a pilot project to acquire new regular supporters through digital channels as well as through our more traditional offline acquisition.
The value of donated books
In 2022, the books that publishers donated to us had a discounted value of £15,434,673.
We value our books based on Nielsen Bookscan prices and we apply an overall 30% discount from the full Recommended Retail Price to allow for the estimated market discount for third party commercial buyers.
Because publishers donate books to us free of charge, it costs just £2 to receive, store, select and send a book worth an average of £13.50. That average is calculated using the value of the books we have sent over the past five years, as shown in the table below.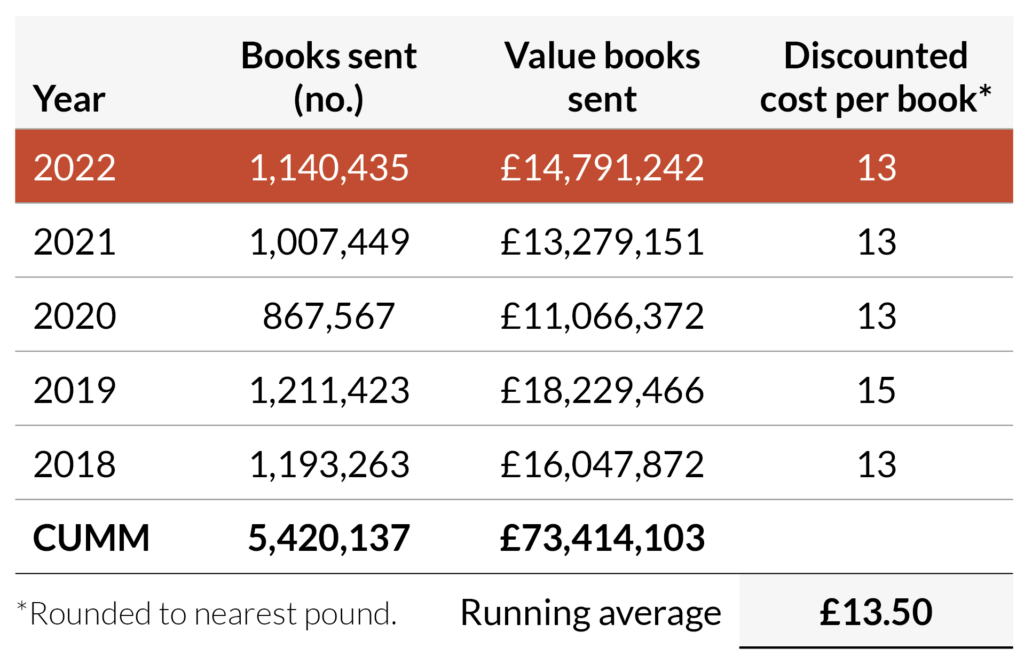 How we control our costs
Our costs are closely managed by our Board of Trustees, to whom we submit financial reports every quarter. We also have two Board committees who take responsibility for our finances. The Finance and Audit Committee is responsible for ensuring our finances are legally compliant and in line with the policies set by the Board. The Remuneration Committee is responsible for salary setting and other HR matters. You can find out more about our Board of Trustees and how it governs our activities here.
We aim to be as financially efficient as possible in all our activities. We have no overseas offices and we work through partnerships to deliver our work. We have a committed team of volunteers whose contribution we estimate as equivalent to two full-time members of staff.
Our Reserves Policy
We maintain cash reserves to ensure that we can deliver our planned commitments in the event of unforeseen financial challenges. The minimum level of reserves we must hold are agreed by our Board of Trustees and monitored regularly.
In 2022, the minimum level was confirmed at a range between £500,000 and £550,000. We ended 2022 with £508,380 in free reserves, higher than anticipated as a result of better than expected funding results in 2022.
Our supporter promise
We couldn't do the work we do without the support of all our generous donors. We appreciate their support and we promise to use their money responsibly and in accordance with our charitable objectives. That is why we have published our Supporter Promise.
Find out more
Our work is only possible through the work of our staff, volunteers, trustees and many friends.
Read more