Our full accounts
Welcome
2021 was another extraordinary year. Covid continued to dominate headlines and lives here in the UK and around the world.
The pandemic kept so many classrooms closed – and millions of students, in particular girls, will never return to school. More families have been pushed into poverty, and conflict and climate change have driven yet more people from home.
In this difficult landscape, our work creating access to books matters so much. Books help students catch up, help adults chart a course out of poverty and help families facing war find the strength to carry on.
And so I am delighted that in 2021 we once again sent more than one million books around the world. We also expanded our programmes creating and supporting new reading spaces and launched innovative new projects to reach more readers.
I would like to personally thank each and every person who supported our charity last year. This Annual Report highlights just a few of the readers you helped us reach in 2021. I hope you enjoy reading it.
Lord Boateng, 2021 Chair of the Board of Trustees and current Vice Patron
As the pandemic continued into its second year we built on lessons learned in 2020 to reach out to readers around the world.
In 2021 the effects of Covid continued to create challenges – delaying shipments and projects and creating a climate of uncertainty. And yet, with the support of our donors and publishing partners, we were able to deliver the majority of our planned programmes and provide more than one million books once again.
Covid's impacts on our projects
In many of the communities where we work the effects of Covid showed few signs of diminishing. Kenya, Somaliland, Uganda, Zambia and Zimbabwe all experienced school closures, and many of our other partners also faced Covid restrictions which meant that they needed to adjust project implementation schedules. As a result many of our programmes were all delayed.
Travel remained challenging, so we delivered our training online and via the 'train the trainer' approach we developed in 2020. Despite all of these challenges, we were able to complete the majority of our planned projects in 2021.
Covid's impacts on our operations
Operations were disrupted by Covid throughout the year, and our Covid protocols meant that we were unable to welcome volunteers. Instead we employed two new staff to ensure we could provide the books our partners need.
While demand for books remained very high, our partners were facing their own challenges related to the pandemic. This meant we sometimes needed to adjust the timings of shipments or the number of books sent. Covid-related driver shortages also meant that our operations team faced challenges securing transport for book shipments.
In spite of all of these issues we exceeded our goal of providing over one million books worldwide.
Covid's impacts on our fundraising
Throughout the year, despite an uncertain outlook here in the UK support for our charity remained as strong as ever and our total income increased. Thousands of people donated to us either through our Reverse Book Club or with one-off gifts and 827 started new monthly gifts.
Covid-related school closures forced us to adapt programme schedules, so we were not always able to meet report and programme delivery schedules agreed with donors. However, our corporate and trust funders showed patience and flexibility, allowing us to amend our reporting schedules to accommodate Covid-related delays.
In 2021, school closures during the pandemic left millions of children behind – so the need for books to help pupils catch up was greater than ever.
World Bank research in 2021 found that the number of 10-year-olds unable to read a simple book
could soon rise as high as 70% in some low and middle-income countries. Good-quality books in
schools could help these children receive the education they deserve, but in the communities
where we work well-stocked school libraries are rare. Many schools have no library at all.
So last year we provided brand-new, carefully selected books to school libraries and worked with our partners to establish new reading spaces in schools. The books we provided ranged from story books to support young readers right through to advanced non-fiction for secondary school pupils preparing for exams.
Supporting education partners
In 2021, we provided books to 47 partners who have education at the heart of their missions. These partners run programmes ranging from large scale teacher training to projects that help the youngest pupils develop a love of reading – and the books we supply are a vital contribution to their work.
We also provided books to a number of organisations that focus on education for the most vulnerable children, both in and out of school.  These partners include Street Child in Cameroon, Rwanda, Sierra Leone and Liberia, The Street Child Empowerment Foundation in Ghana and Salve International and Inspire Lives Africa in Uganda.
Establishing new school libraries
In addition to providing books to schools, we also ran a number of projects that established new school libraries in 2021. In total these programmes established 133 new school libraries, provided more than 160,000 books to schools, trained 516 teachers in how to use books to enrich classroom learning and upskilled 19 local trainers.
In 2021, we also increased the grants we provided to partners to buy locally published books to £110,840, funding the purchase of 45,190 books.
Find out more about our work enriching education and training teachers
In far too many places, books remain a luxury – out of reach for huge numbers of people.
Public and community libraries often offer the only chance for people to read, but many lack the funds to buy new books. Community libraries, in particular, are often run by volunteers with very few resources. In 2021 we provided brand-new books of all types to 270 public libraries and 535 community libraries.
They ranged from networks of libraries spanning entire countries to small community libraries that serve a single village. Many have outreach programmes and mobile libraries that also benefited from the books we provided.
Working with partners to promote reading
In addition to providing books, we also work with our partners to raise awareness of the importance of libraries and reading. In 2021, we provided books to partners that specifically focus on promoting reading in The Gambia, Ghana, Lebanon, Palestine and Somaliland.
We also expanded our Reading Promotion programme in 2021, supporting 12 partners to run a total of 12 events which promoted the value of books, raised the profile of local libraries and encouraged people to read.
A new library for Zanzibar
Our Community Container Library programme transforms shipping containers into thriving libraries. We provide the funds to refurbish each shipping container, along with a collection of books chosen for the local community, a grant to buy locally published books and training for librarians. The libraries are then run by our local partner.
Working with Zanzibar Library Service, we began building our second container library in Southern Zanzibar in May 2021. Located in Dunga, a town of 76,000 people that previously had no library, it has already become a community hub stocked with 5,000 UK-donated books and 1,192 locally purchased books.
Celebrating community reading
In 2021 we launched the Community Reading Awards, offering grants of £1,400 to launch innovative projects and inspire more people to read in the community. Winners included:
The I am a Story Champ project, which will involve 400 vulnerable children in new community reading centers and through a reading competition in Uganda.
The Love Through Books project, which will establish a library in the Africa Hope Centre Orphanage in Nairobi.
The Ekon Community Literacy Project, which will set up a community library in the fishing community of Ekon, Ghana.
Inspiring reading at school and home
In 2021, we expanded our Books to Go programme, which establishes lending libraries in schools and trains teachers in how to encourage children to read both in school and at home with families.
In 2021, we established 20 Books to Go libraries in 20 primary schools across Kenya, Ghana, Sierra Leone and Zanzibar – and whole families are feeling the benefit.
In many of the countries we work in, professionals and higher education students face multiple barriers to accessing up to date information.
Libraries often lack the funds to buy books for higher-education students, and practising professionals are also unable to purchase the up-to-date books that they need. Unreliable internet and electricity mean that digital information is often out of reach as well.
In 2021 we provided 60,438 higher education books and 89,069 medical books around the world to support higher-education students and practising professionals in a variety of fields. Our partners included the Hawassa University in Ethiopia, AMREF Health Africa in Kenya, the University of Liberia and the College of Medicine at the University of Malawi.
Supporting healthcare providers
We provided a wide range of brand-new medical books to universities, colleges, hospitals and clinics around the world, reaching trainee doctors and nurses and helping professionals to keep building their skills.
One of the medical training facilities we supported in 2021 was the Edna Adan Maternity Hospital in Somaliland. We provided 1,167 books to give the next generation of midwives access to the information they need to offer the best possible support to every mother and baby in their care.
Reaching universities
A lack of books puts students' education and future success in jeopardy so last year we provided higher-education books to universities in 12 countries. They covered topics ranging from history to the social sciences to law.
Our focus is on universities where students face the greatest barriers to reading and learning. Last year that included working with the University of Mosul to restore its library, which was  deliberately destroyed by IS in 2014. In 2021, the library reopened, and we were pleased to support students with a donation of 10,295 books.
In 2021, the number of people around the world forced to flee their homes rose to more than 82 million.
The impact of a crisis on education and learning can be devastating, with millions of people robbed of the chance to read. In 2021 we worked with partners worldwide to create the opportunity to read for people who have been displaced or who live in communities where conflict is an everyday reality.
Supporting refugees
Kakuma Refugee Camp in Kenya is home to 196,666 people and, in 2021, we worked to enrich education across the camp. Through our Reading for All programme we provided 12,000 brand-new books to eight primary schools in the camp and equipped five secondary schools with study books.
Elsewhere, we also reached many thousands more refugees by providing books to Shire Refugee Camp Library in Ethiopia, to Dadaab refugee settlement in Kenya, to Bidi Bidi, Navikale and Kyaka II refugee settlements in Uganda, to the Nyarugusu refugee camp in Tanzania and to 23 refugee camps across Greece. In total, we provided 56,721 books to refugees around the world.
Find out more about our work supporting refugees.
Reaching people living with conflict
In 2021 we provided books to eight countries where people live with the daily impact of ongoing conflicts: Cameroon, Ethiopia, Iraq, Palestine, Somalia, Somaliland, South Sudan and Syria. Books in these communities provide a lifeline, enabling people in some of the world's most marginalised communities to study, learn and escape into books.
One of our new partners in 2021 was Yezidi Emergency Support (YES), a local organisation that supports the minority Yezidi community in Iraq. Yezidis were brutally targeted by ISIS in 2014 and, last year, we provided 1,208 books to support five reading spaces designed to support Yezidi children.
Learn more about our work responding to conflicts and disasters.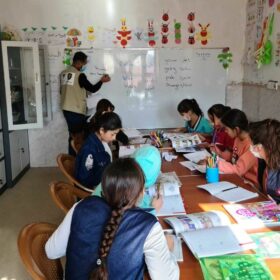 Our Vision 2020: Where Books Change Lives strategy was due to guide our work until 2020. In light of the pandemic, we extended the strategy for one more year.
Five key objectives shaped our work during the strategic period and, in meeting them, we have grown our partner network, increased our focus on reaching people with the least access to books and developed new ways to support education.
Objective one:
Increase the number of books we send every year to 1.5m.
Between 2016 and 2018, the number of books we provided grew annually, and in 2018, we sent 1,286,538 books around the world.
Since 2020, our ability to send books has been reduced due to the pandemic, so we have not been able to reach the initial targets we set ourselves. However, we provided more than one million books in 2021 and, looking to the future, we still hope to achieve our 1.5 million book target.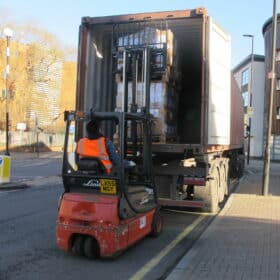 Objective two:
Donate an estimated 35% of books specifically to five priority beneficiary groups.
Our focus for this strategy has been on reaching people who have been displaced or who live in fragile states, pupils in poorly resourced schools, learners in the community, healthcare providers and educators and excluded or disadvantaged groups and individuals.
We have made significant progress in meeting this goal. In 2016 we were working with 42 partners which supported these priority groups and provided them with a total of 151,164 books. In 2021, those numbers rose to 119 partners and 609,096 books.
Objective three:
Continue our work to encourage children's reading by establishing more than 150 Children's Corners in public and community libraries.
In 2021, we opened two new Children's Corners – one at Siilaanyo National Library in Somaliland and one at the Accra Central Library in Ghana.
These bring us to a total of 150 Children's Corners established since 2016.
Objective four:
Support more than 250,000 school pupils with reading resources through Inspiring Readers, our schools outreach programme.
We were pleased to have exceed this target. We have now reached 290,883 children through Inspiring Readers across seven African countries.
Through this programme, we have also trained 113 librarians and 880 teachers, provided 372,473 books across 53 libraries and 297 schools, and funded the purchase of more than 50,000 locally published books.
Objective five:
Advocate for the value of reading and be able to demonstrate that we have helped to support and develop a culture of reading.
Our Reading Promotion campaign now spans 12 countries across Africa, compared with five in 2016. Through the campaign, our library partners run events to engage children and partners with reading.
We have also built partnerships with NGOs that exist to promote reading, most recently in Bhutan, The Gambia, Ghana, Lebanon, Palestine and Somaliland.
Some give £6 a month, others make multi-year grants and others donate the brand new books that readers around the world need. But they all contribute to a world where everyone has access to books. Heer you can meet a few of the inspiring people who help us share the power of books around the world.

"Books brought me so much joy"
We are incredibly grateful to our community of individual donors  and the members of our Reverse Book Club who recognise the transformational power of books and want to share that with others.
"Books brought me so much joy when I was a child. I know that they can bring a valuable escape in difficult situations and be incredibly empowering, especially for women."
Carol Whitworth, donor, Book Aid International
"Our Trustees are very proud of their long partnership with Book Aid International."
Trust and foundation support is vital in helping us deliver so many of our projects and we are very grateful to both our long-standing supporters and those who are new to us.
"The Bernard Sunley Foundation has supported Book Aid International for over 30 years and has particularly focused on helping to fund Children's Corners in libraries across Africa. Our Trustees are very proud of their long partnership with Book Aid International that has improved the quality of life – through books and a love of reading – for many thousands of children."
– Sue Davies, Director, Bernard Sunley Foundation
"Blackwell's is a supporter because we believe that books are powerful."
Working with corporate supporters whose values align with ours allows us to ensure more people benefit from the power of books. We are very grateful to organisations which choose to support us in this way.
"Blackwell's is a strong supporter of Book Aid International because, like them, we believe that books are powerful. We are thrilled to be continuing our support of this wonderful organisation. It is a rare joy to be in a partnership where our values are so closely aligned."
– Kate Stilborn, Operations and Customer Service Director, Blackwell's
"Book Aid International's mission clearly aligns with Postcode Education Trust's vision."
People's Postcode Lottery has stood beside us since 2015 – offering funds, advice and connections with charities with whom we can collaborate. Their funding comes from the many thousands who play the lottery every month – and to them we offer our heartfelt thanks.
"Players of People's Postcode Lottery have raised over £3 million for Book Aid International since 2018. Their mission clearly aligns with Postcode Education Trust's vision for all children to have access to an inclusive and quality education whilst promoting sustainable and lifelong learning opportunities."
– Laura Chow, Head of Charities, People's Postcode Lottery
"We are indeed very lucky."
While in 2021 our warehouse remained closed to volunteers in line with Covid restrictions, we welcomed remote volunteers who donated 118 hours supporting our communications and fundraising teams. Their work freed up staff time to deliver essential services, and gave volunteers a sense of connection to readers around the world.
"While I was transcribing interviews as a Book Aid International volunteer, I was struck by the joy the children experience when receiving something as simple as a colourful story book. My two young boys have shelves full of them but to a child in Uganda they're a game changer, a chance to take pride in learning and a window into something magical. We are indeed very lucky."
– Chris Buck, volunteer, Lexis Nexis
"Books and libraries have such a vital role to play."
Authors, celebrities and influencers are an essential part of our efforts to raise awareness of our work and of the need for books around the world. They represent us at high-profile events, help us spread the word online and are vital to our press coverage ever year. We cannot thank them enough for their support.
"Books and libraries have such a vital role to play after conflict, and it has been my privilege to be a part of the Siilaanyo National Library's story. I have seen how brand-new books provided by Book Aid International have helped to develop the Siilaanyo National Library into what it is today, and so I'm delighted to be a part of this Book Aid International event at the Hay Festival."
– Rageh Omaar, journalist, author and broadcaster
"Donating to Book Aid International is an important part of our CSR programme"
We are supported by many of the world's leading publishers, some of which donated more than 100,000 books to us last year.  Publishers donate a wide variety of books to us – from picture books for the youngest readers right through to advanced law and medical texts. This generosity allows us to support readers of every age and from every walk of life. We are grateful for all of their support.
"Donating to Book Aid International is an important part of our CSR programme and we are proud to support them. We know that when we send them books they will have a direct and positive impact on children and adults who need them most around the world."
– Sarah McPhee, Head of Corporate Social Responsibility and Events, HarperCollins
Our income
In 2021, our total income was £12,567,896, of which £2,554,623 was cash and £10,013,273 was the value of books donated to us by UK publishers.
Our expenditure
Our total expenditure was £15,587,726, of which £2,308,575 was cash expenditure and £13,279,151 was the value of the books we provided around the world.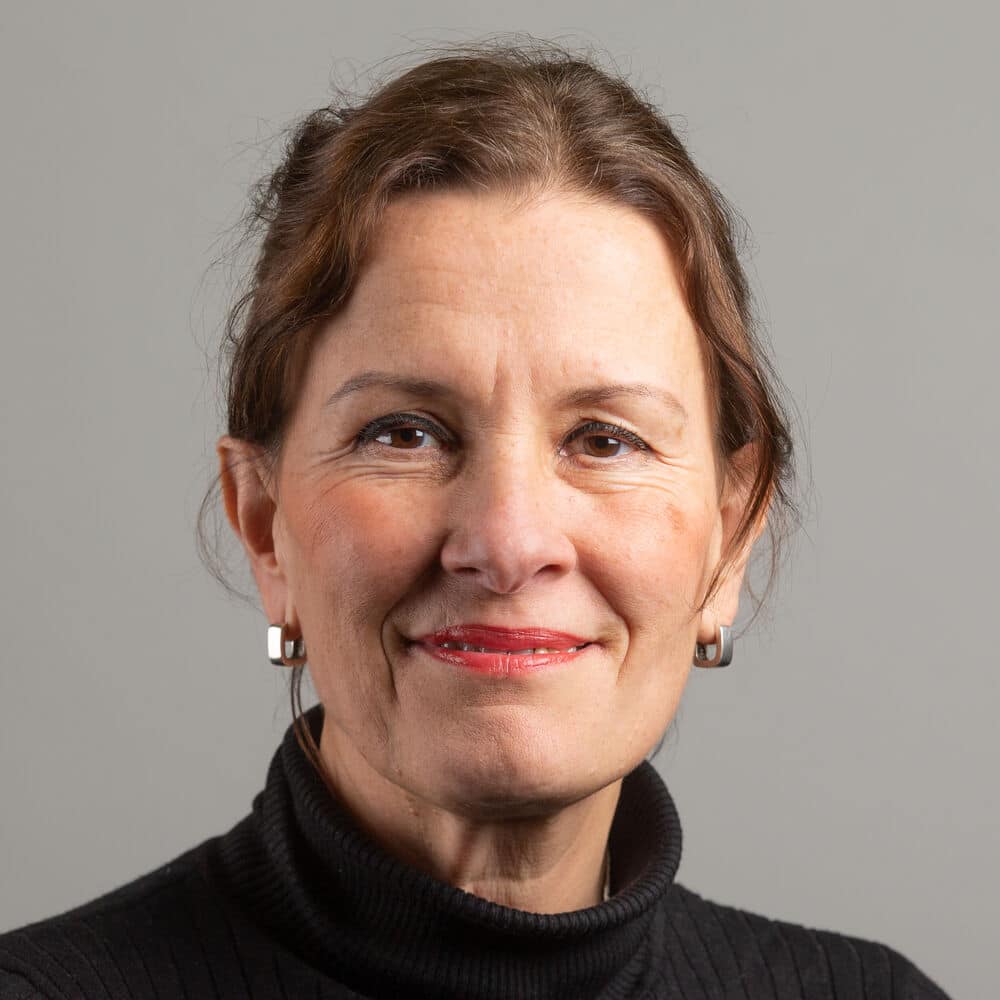 Looking forward
In 2021 the global pandemic continued to impact millions of children in their learning, push more people into poverty and further erode progress towards the 2030 Sustainable Development Goals.
At Book Aid International we know books give people power. A book offers information, inspiration, hope, joy. And so much more. We are committed to sharing the power of books with even more people in the years to come because we know that books help build a more equal world.
In 2022 we launch our new strategy for 2022 to 2025: The Power of Books. It is based on four key goals: equity, engagement, partnership and advocacy.
To ensure equity of access to books we will focus our work on the places with fewest resources, and on the most marginalised communities. To get people engaged with reading we will support school, public and community libraries, and anywhere where people can access books and read. And we will take every opportunity to advocate for the power of books to improve and change lives.
To do all this we will call on the support of publishers and donors, the skills and determination of our partners and the encouragement of our many friends who believe, as we do, in the power of books.
Thank you for helping us work towards our vision of a world where everyone has access to books. I do hope you will continue to support us in the years ahead.
Alison Tweed, Chief Executive, Book Aid International