When disaster strikes, education suffers
After disasters, in the midst of conflict and in places where children's schools could never provide a library – like informal urban settlements – children often miss out on the chance to read.
With climate change, rising inequality and increasing global conflict fuelling greater displacement year on year, more and more children risk missing out.
Our Discovery Book Boxes provide the perfect solution.
The power of Discovery Book Boxes
Discover Book Boxes create a 'library in a box' wherever children need it – and thousands of children have already experienced the magic of opening a Discovery Book Box for the first time.
Each one contains 200 brand new children's books – carefully selected to help children read for learning and fun. The boxes are portable, tough and waterproof, so they can be used everywhere from remote schools to refugee camps, and are easy to transport if communities have to keep moving. They also include a guide to help teachers make the most of the books with young readers.
To date, we've provided 316 Discovery Book Books – everywhere from schools in Zimbabwe affected by Cyclone Idai to community centres in Cameroon, where families were sheltering from violence. Each one helps hundreds of children discover the power of books.
Impact since 2018
316
Discovery Book Boxes provided
Reaching children like Fortune*
Fortune is one of hundreds of thousands of people who has been forced from home by Cameroon's ongoing civil conflict. For her, a Discovery Book Box is a source of joy and comfort.
When we were running away from the war, we spent months in the forest. I could not go to school. We lived in fear. When they brought the Discovery Book Box, I was so happy because I could read again. The books have given us hope.

Fortune, 10, Cameroon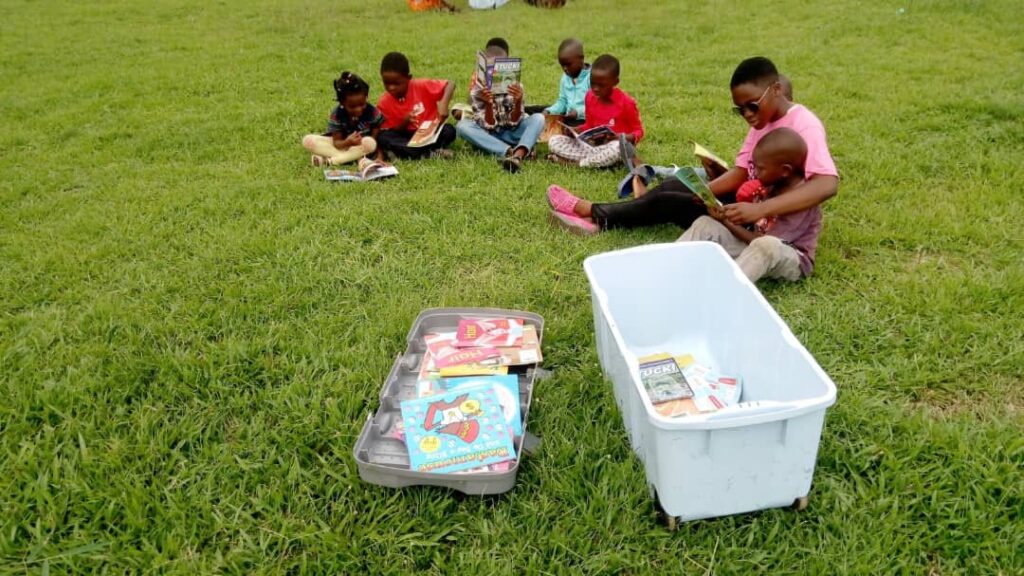 What each Discovery Book Box delivers
Children can keep reading, wherever they are
Libraries can be set up anywhere – and can easily be moved around
Teachers and community leaders get support to inspire young readers
*Name changed
Fund this project
It costs £550 to deliver a Discover Book Box.
Find out more about our charity
Our vision is a world where everyone has access to books that will enrich, improve and change their lives.
Read more